Each year on February 14th, many people exchange cards, candy, gifts, jewlery, and flowers from their special valentine.
How about receiving a HUGE box of chocolates like that box in the top photo? That sure is a lot of chocolate to eat. If I were to eat all of that chocolate, it would probably take me a few months to eat all of them. LOL.
I love receiving flowers on this special day and going out to lunch or dinner with my husband. We will be celebrating this year by going out to lunch together.
Last year I received the beautiful long stem roses seen in the photos below.
💖
Many people receive beautiful Valentine's Day cards from loved ones. I've really loved receiving throughout the years, the homemade Valentine's Day cards my daughter makes for us. :0)
I also love the old fashioned vintage cards from many years ago. The photo below has cute cherubs on it.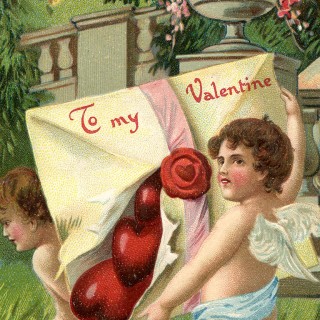 Children love exchanging cute cards and candy with each other in school. Do you remember doing that when you were little? I do and I couldn't wait to receive those cute cards from my classmates.
Some people enjoy making Valentine's Day crafts like banners, wreaths, cards, and baked sweets. A few years ago I made a crocheted cup cozy with a heart on it for Valentine's Day.
Crocheted Valentine's Day Cup Cozy
I crocheted this cup cozy back in 2015. I really enjoyed making this for my mug. If you want to make one too, than just click
HERE
for the pattern and directions.
💖
I hope you all enjoy today whatever you do and wishing you a Happy Valentine's Day!

Click HERE to see the great parties I will be linking up to!
Julie